Humanistisk forskningskommunikation 2.0
Modsat humaniora, så har flere naturvidenskabelige fag, så som partikel- og astrofysik, har gennem flere år opbygget et publikationsmønster, der hænger nøje sammen med udviklingen hen mod fuldstændig "open-access" til forskningen indenfor disse fag (Dorch 2006): Det vil sige, at det er muligt for alle forskere, og for offentligheden, at finde fuldtekstudgaver på nettet, af stort set alle forskningsartikler inden for disse områder, og det samme gælder naturligvis for undervisere, studerende, journalister og beslutningstagere. Ifølge 2006-ranglisten fra det anerkendte Times Higher Education Supplement (THES), er det Humanistiske Fakultet på Københavns Universitet det 26. bedste humanistiske fakultet på verdensplan, det 9. bedste i Europa og det bedste i Norden. Ikke desto mindre har humaniora problemer med kvantitativt at demonstrere kvaliteten af humanistisk forskning (Faurbæk 2007): Eksempelvis indførte det Humanistisk Fakultet på Københavns Universitet i foråret 2007 en lokal forskningskvalitetsmodel, for at undgå at universitetet tilbageholdt et større millionbeløb i forskningskroner fra humaniora-området. Påstanden i det følgende er, at disse problemer i hovedsagen er en konsekvens af manglende synlighed af humanistisk forskning, bland andet på grund af den lave repræsentation af humaniora i internationale litteraturdatabaser: Selvom der i princippet findes citations- og litteraturdatabaser for humaniora, for eksempel ISI Thomsons "Arts and Humanities Citation Index" i Web of Science, så svarer indholdet af disse databaser kun til en forholdsvis lille brøkdel af den danske humanioraforskning.
According to the 2006 list from Times Higher Education Supplement (THES) the Faculty of Humanities at Copenhagen University is number 26 in the world. Nonetheless, the quality of arts and humanities research is difficult to quantify (Faurbæk 2007), and as a consequence various research assesment models have been proposed. The argument in this paper is, that the problem of assessing research within the arts and humanities stem from the lack of visibility of the research output of these subjects.
Fichier principal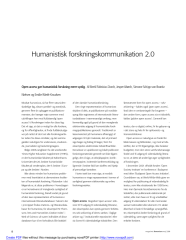 Dorch_ea08b.pdf (294.08 Ko)
Télécharger le fichier
Origin : Files produced by the author(s)