Aam Admi party: Partner, what is your politics?
पार्टनर, तुम्हारी पॉलिटिक्स क्या है?
This article was written after Aam Aadmi Party formed the government for the first time in Delhi. The article discusses the concept of social justice of the Aam Aadmi Party. This article concludes that the party does not care about the interests of Dalits, Backwards.
यह आलेख आम आदमी पार्टी की दिल्ली में पहली बार सरकार बनने के बाद लिखा गया था। आलेख में आम आदमी पार्टी की सामाजिक न्याय की अवधारणा पर विचार किया गया है। यह लेख बताता है कि पार्टी दलित, पिछड़ों के हितों की परवाह नहीं करती।
Fichier principal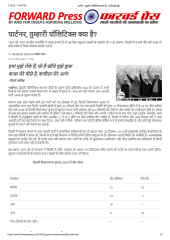 Ranjan, Pramod. 'पार्टनर, तुम्हारी पॉलिटिक्स क्या है' फॉरवर्ड प्रेस. vol. 6. no. 2. Feb. 2014, pp. 9–16..pdf (2.93 Mo)
Télécharger le fichier
Origin : Publisher files allowed on an open archive