Modernist Aesthetics, Decolonial Critique and Music Creation: Hans Joachim Koellreutter, Enrique Dussel and my Compositional Practice
Esthétique moderniste, critique décoloniale et création musicale: Hans Joachim Koellreutter, Enrique Dussel et ma pratique de la composition
Estética Modernista, Crítica Decolonial e Criação Musical: Hans Joachim Koellreutter, Enrique Dussel e a minha Prática Compositiva
This work presents a discussion about the trajectory of the modernist artistic movement in Brazil. Many of the advances and tendencies in the musical language began to change the direction of the Brazilian musical scene from the initiative of a small group, who were forced to propagate the music and language of their time. Concepts that bring up some problems about "Europe, Modernity and Eurocentrism" that permeate the modernist movement and much of Hans-Joachim Koellreutter's trajectory in Brazil and internationally will be pointed out, explaining these concepts within a theoretical framework, pointing to a change in the meaning of these terms that are placed as absolute and traditional in education, emerging a colonizing vision of history and a questioning concerning the practice of musical creation. In view of all these discussions, we can break certain paradigms that bind us to Eurocentric music for a decolonial musical thought.
Cet ouvrage présente une discussion sur la trajectoire du mouvement artistique moderniste au Brésil. Beaucoup d'avancées et de tendances dans le langage musical ont commencé à changer la direction de la scène musicale brésilienne à l'initiative d'un petit groupe, qui a été contraint de propager la musique et le langage de son temps. Les concepts qui soulèvent quelques problèmes sur "l'Europe, la modernité et l'eurocentrisme" qui imprègnent le mouvement moderniste et une grande partie de la trajectoire de Hans-Joachim Koellreutter au Brésil et à l'international seront soulignés, expliquant ces concepts dans un cadre théorique, pointant vers un changement dans la sens de ces termes qui se placent comme absolus et traditionnels dans l'éducation, émergent une vision colonisatrice de l'histoire et un questionnement sur la pratique de la création musicale. Au vu de toutes ces discussions, on peut casser certains paradigmes qui nous lient à la musique eurocentrique pour une pensée musicale décoloniale.
O presente trabalho apresenta uma discussão sobre a trajetória do movimento modernista artístico no Brasil, onde muitos dos avanços e tendências na linguagem musical começaram a mudar o rumo do cenário musical brasileiro a partir da iniciativa de um pequeno grupo, a saber o Grupo Música Viva, que se impuseram a propagar a música e a linguagem do seu tempo. Serão apontados conceitos que trazem a tona alguns problemas sobre a "Europa, Modernidade e Eurocentrismo" que permeiam o movimento modernista e grande parte da trajetória de HansJoachim Koellreutter no Brasil e internacionalmente, explicando esses conceitos dentro de um referencial teórico, apontando a uma mudança de significado desses termos que são colocados como absolutos e tradicionais na educação, emergindo uma visão colonizadora da história e um questionamento referente a prática de criação musical. Tendo em vista todas essas discussões, podemos romper certos paradigmas que nos prendem a música eurocêntrica para um pensamento musical decolonial.
Fichier principal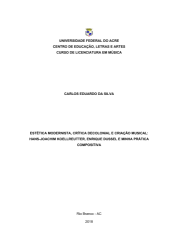 TCC_Carlos Eduardo da Silva_2018_.pdf (1.05 Mo)
Télécharger le fichier
Origin : Files produced by the author(s)